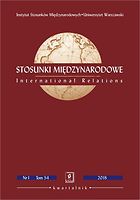 Stosunki Międzynarodowe - International Relations
published by the University of Warsaw's Faculty of Political Science and International Studies has been a leading journal of international relations in Poland and Central Europe for almost 40 years. The journal
Stosunki Międzynarodowe-International Relations
publishes original, peer-reviewed articles encompassing a broad range of topics, theoretical approaches, methodologies and sub-disciplines in the scholarly field of international relations. In 2021, the Faculty of Political Science and International Studies established a partnership with
Taylor & Francis
, one of the most recognized and respected scholarly publishers in the world. Together, we launched one of the world's first open access publishing platforms in the field of international relations, supported by
F1000
's technology. The publication venue is now fully open access, and part of the move towards making research findings ever more accessible, usable and relevant.
By the decision of the Ministry of Education and Science dated 21.12.2021, the journal received
100 points
on the Polish ministerial list of scientific journals and peer-reviewed international conference materials. Read
more
.
The journal welcomes submissions of manuscripts in English.
More information about the
new publishing platform of Stosunki Międzynarodowe - International Relations
is available
here
More information about the
CALL FOR PAPERS 2023
is available
here
.
Submission deadline
for the 2003 issue is
May 15, 2023
.
ISSN: 0209-0961 (print issues)
ISNN: 2754-2572 (online issues)